Replace your existing shade sail
Shade sail replacement is a large part of our business, replacing shade sails and PVC sails when they have reached the end of their life or have been damaged beyond repair is one of our areas of expertise.
We remake sails for both domestic and commercial situations. The replacement shade sail maybe the same colour and material or be approached as a total refresh.
Manufacturers of shade sails and PVC sails provide a warranty of ten years through to fifteen years. The warranty varies but covers the abnormal deterioration from ultra-violet exposure. One manufacturer defines this for shade sails as:
"Abnormal deterioration means deterioration exceeding 5% of the fabrics original strength for each year over the 10 year warranty period."
This means after ten years, a deterioration of 50% in a shade sail is regarded as normal. PVC sails whilst having a warranty for ten years, realistically last well over 15 years. Should a sail require a major repair towards the end of its life, it often makes sense to opt for shade sail replacement.
When a sail is brought down for cleaning towards the end of its life, a remake is considered amongst the options and discussed with our clients. In simple terms, a sail may only last a few more years given its deterioration, so it maybe pragmatic to consider shade sail replacement replace at this time.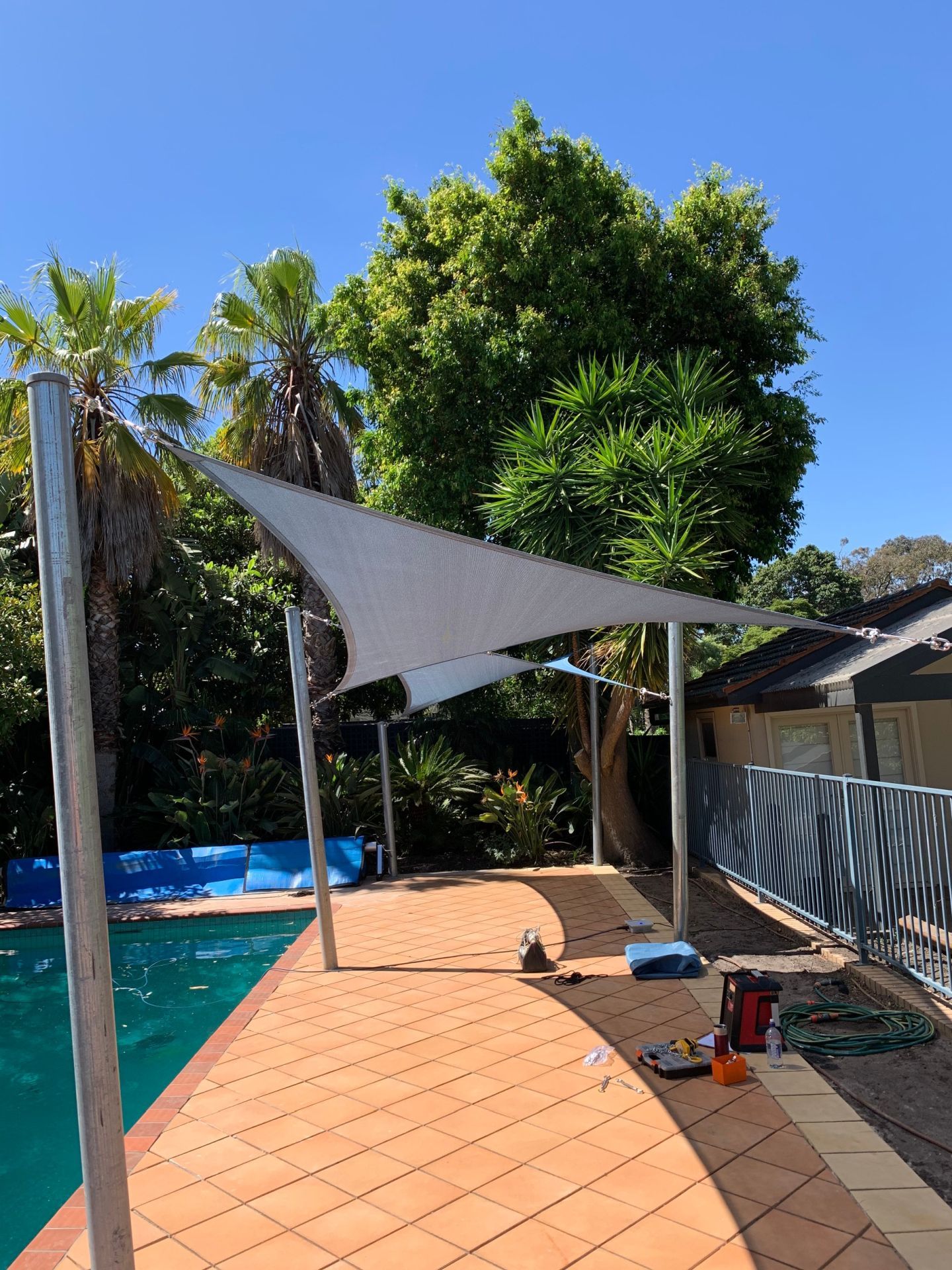 When other options won't work
Shade Sail Services repairs sails such as restitching seams and applying patches where required. Deterioration maybe evident when the sail is removed for cleaning. The level of deterioration may become evident once it is removed. Sails maybe also be damaged beyond repair; the damage caused by storms, fire or vandalism. In the life of the sail, and depending on its deterioration or damage, a replacement shade sail may well be the most cost effective solution.
Shade Sail Services provides a comprehensive fabrication service to replace sails beyond repair or no longer "fit for purpose".
Sometimes the sail is not suited to the site and a re-design and fabrication is required. One example is shade sails combined to provide shade from a central pole. Shade Sail Services can change the configuration with a "ring top" installed on top of the pole and a larger sail fabricated to cover the area and provide superior sun protection.
Customers including shade sail companies, schools, government agencies and businesses come to us to fabricate replacement shade and PVC sails. In particular, Shade Sail Services has the capability to fabricate very large sails; sails exceeding 800 square metres in area.
Shade Sail Services provides replacement shade sails and covers all over Melbourne, Geelong and surrounding areas including the Bellarine and Mornington Peninsulas.
In most cases we replace a shade sail like for like. Where a sail needs replacement but its design is not the optimum for the space, Shade Sail Services can assist in its redesign. The redesign may include re-configuring the supporting infrastructure such as physically relocation posts and attachments. Shade Sail Services can help you work through the options and achieve a cost effective solution with improved coverage.
Using satellite images we can also provide a visualisation of the proposed shade solution on your site. This comprehensive visualisation capability helps clients to better understand the options available and to assist on deciding the better solution.
Once a final design is agreed, Shade Sail Services can provide a fixed price quotation for the work.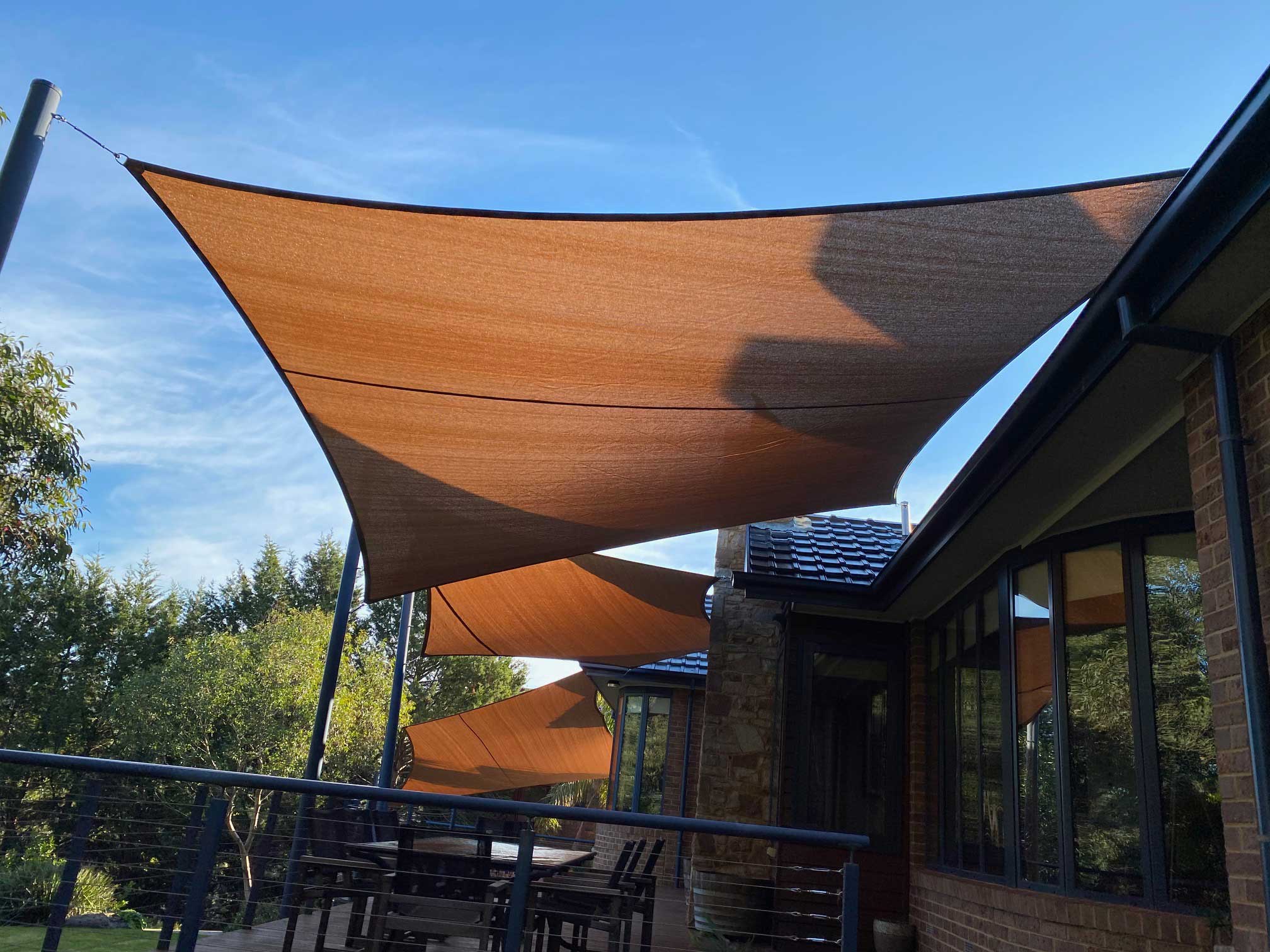 Shade Sail Services employs our own experienced and skilled sail makers to produce the sails and covers. We are about to introduce the most advanced computer-controlled cutting technology available, which provides precision load analysis and tight tolerance.
We use the best materials available, including PVC (Vinyl-Coated Polyester) and HDPE, a high-density polyethylene mesh that can block out up to 96% of the sun's harmful UV rays. The major fabrics we use are PolyFX, Comshade, Monotech, Monotech370 and Architec 400. These fabrics meet various requirements and we discuss with you the fabric choice that best suits your requirements.
The choices in fabric provide varying degrees of translucency, light reflectivity, UV and weather protection, strength and fire resistance.
Whatever your requirement Shade Sail Services has you covered.