We are the experts at Shade Sail Cleaning
Shade Sail Services designs, fabricates, repairs and maintains shade sails, PVC sails and other covers used in domestic and commercial situations.
Shade Sail Cleaning & Repair
Re-installation and Optional Storage
We commenced business cleaning shade sails (that's all we did) when there was no one else in the industry doing it. We were pioneers and to this day we continue to provide a comprehensive and well-regarded shade sail cleaning service. In fact, our customers include other shade sail companies!
We provide a comprehensive cleaning service including removing, cleaning and re-installing fabric shade sails and PVC shade sails. We also provide cleaning of pool covers, sandpit covers, external blinds as well as skylight covers. The cleaning process can be undertaken on an "as required" basis or it can form part of a full service maintenance program.
Customers including other shade sail companies, schools, government agencies and businesses come to us for cleaning, as our reputation is that we return a sail or cover to you in near new condition. Many clients are amazed when we restore a sail that has not been cleaned for years.
This great cleaning result is achieved through our proven environmentally friendly cleaning process that avoids the use of harsh detergents and chemicals or abrasive scrubbing, extending the life of your sail or cover. The cleaning process is based on the use of specialized equipment, years of experience by our fully trained staff and a quality process second to none. We provide a quality result, efficiently and economically that extends the life and improves the aesthetics of your sail or cover.
A clean sail or cover looks great and lasts longer.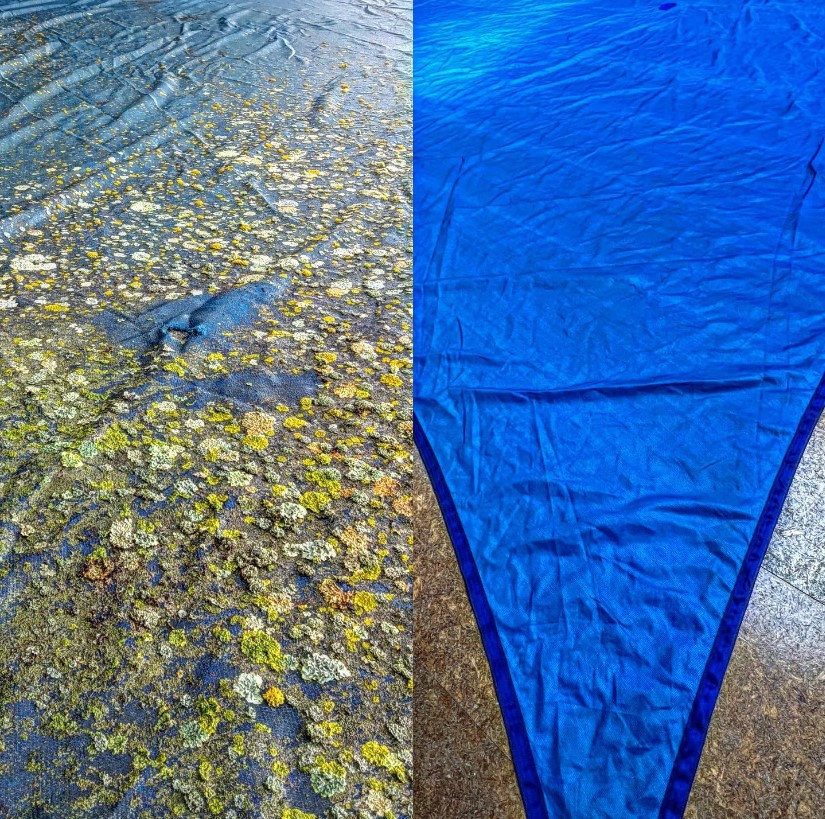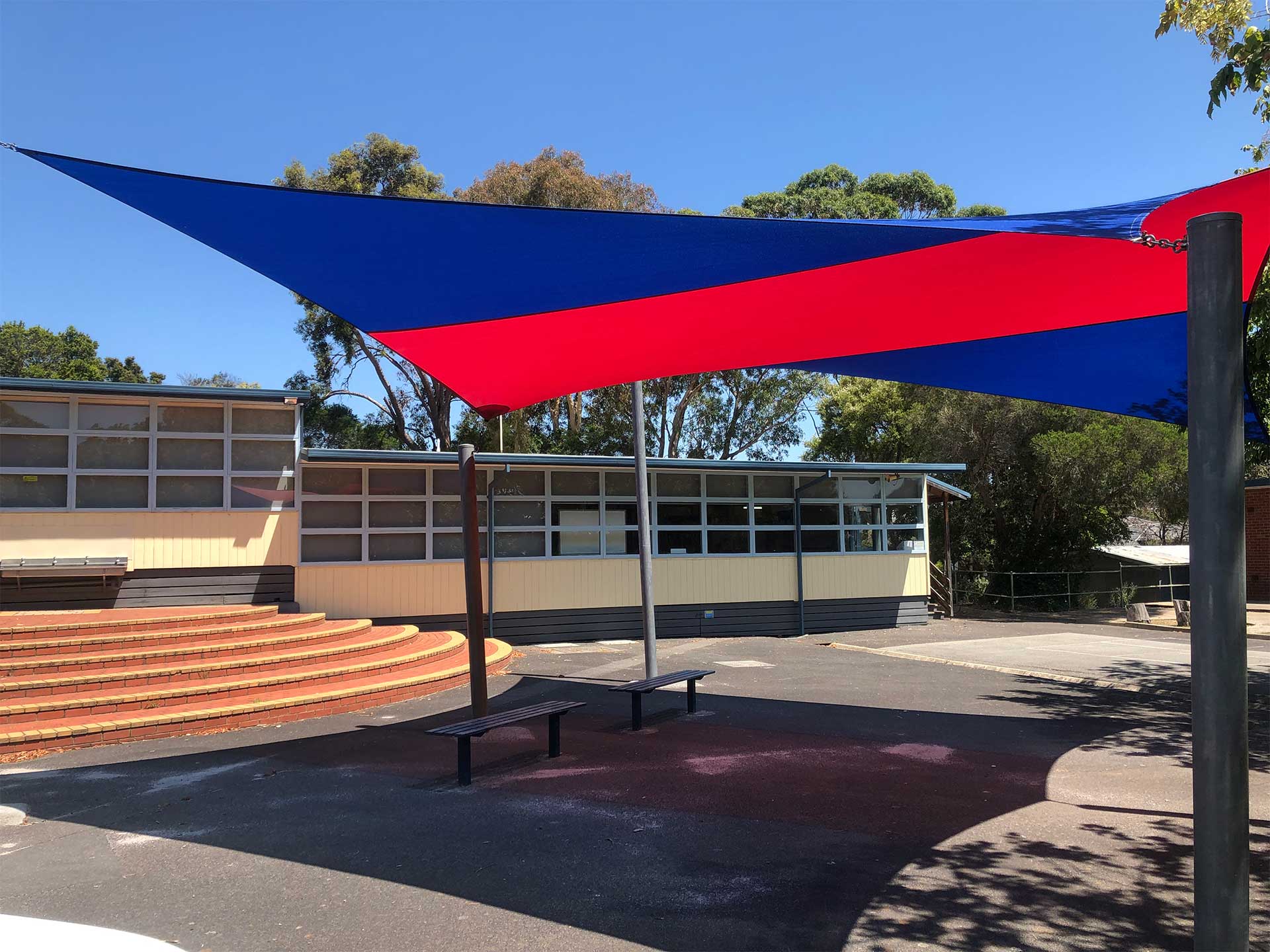 Often customers come to us having attempted to clean their shade sails, sandpit covers, skylight covers or PVC sails and are just not happy with the result. The sails are usually not cleaned properly as the dirt is ingrained in the sail and cleaning from underneath is not effective. Apart from a poor result there is usually additional mess created that itself needs cleaning up. Trying to clean without removing the sails and covers from their fixed position usually results in a less than satisfactory result. If the sails and covers are removed to clean more effectively, they also need to be refitted. With shade sails and PVC sails specialised equipment is required to achieve the correct placement and tensioning.
Shade Sail Services removes and cleans sails and covers of all sizes. We clean sails in size from protecting a patio in a backyard from the sun, through to sails that have an area that covers basketball court or even stadiums protecting children and adults from the summer sun.
Shade sail cleaning uses our proven process that is based on over nine years of experience. We use a soaking process and specialised equipment to remove ingrained dirt, moss, mould and lichen. We do not use harsh detergents or abrasive scrubbing that some manufacturers recommend. Our experience is that it actually causes degradation of the sail or cover using detergents, chemicals or abrasive scrubbing. Our shade sail cleaning process is environmentally friendly.
We have been using Shade Sail Services to maintain our shade sails for over five years now. The school has sixteen shade sails in five areas with several sails over 100m2 in size and quite high. Shade Sail Services is working with us to keep all the sails in good condition with a program of work where we cycle through the cleaning and repair process each year
Wayne W.
Berwick, Melbourne
My husband and I were amazed with how well the sail that you cleaned and repaired came up. When we bought the property, we were sure the sail would have to be replaced. We knew the corner would have to be re-stitched but we did not believe the sail could be brought back to as good as new!
Angela V
East Brighton, Melbourne
Regular Shade Sail Cleaning
Depending on the location of the sail or cover, the sail or cover probably requires cleaning every three or four years provided that the shade sail or cover has been maintained from the time of installation. If a sail has not been cleaned for years and is in a poor condition, it will require a major clean and a more regular clean after that. A sail or cover located in standard conditions and maintained properly, will have a life of at least ten years. Therefore in the life of a sail, two cleans in its life is probably sufficient. Of course, sails and covers located under trees or in wet and cold areas will likely require a more regular shade sail cleaning program.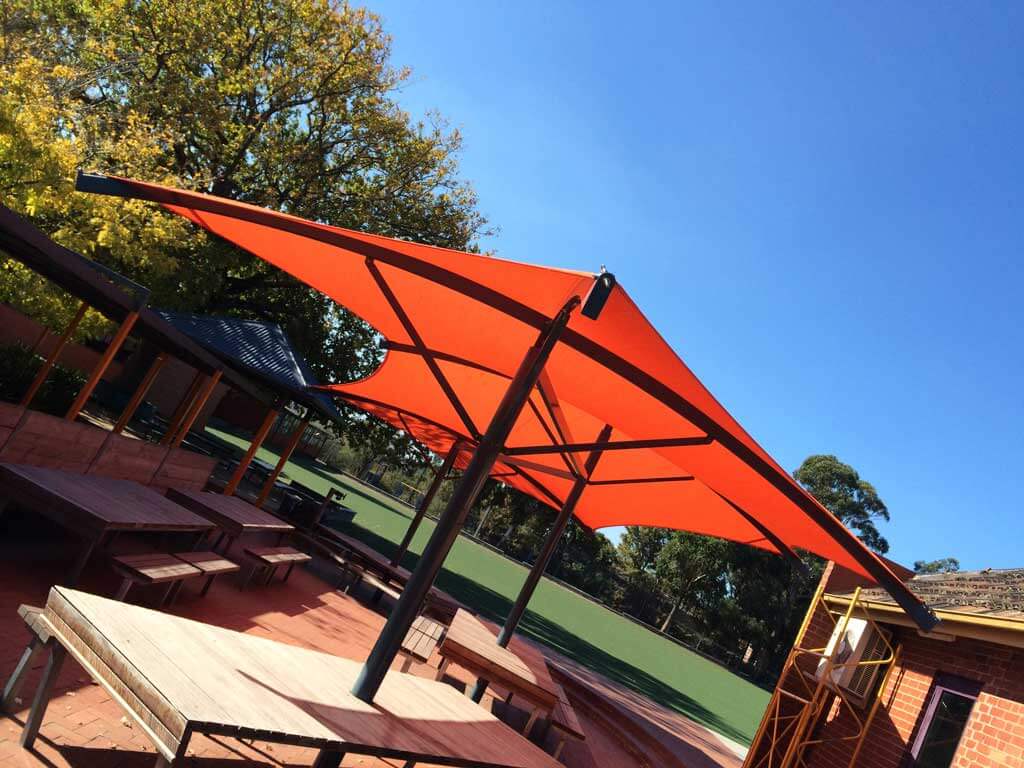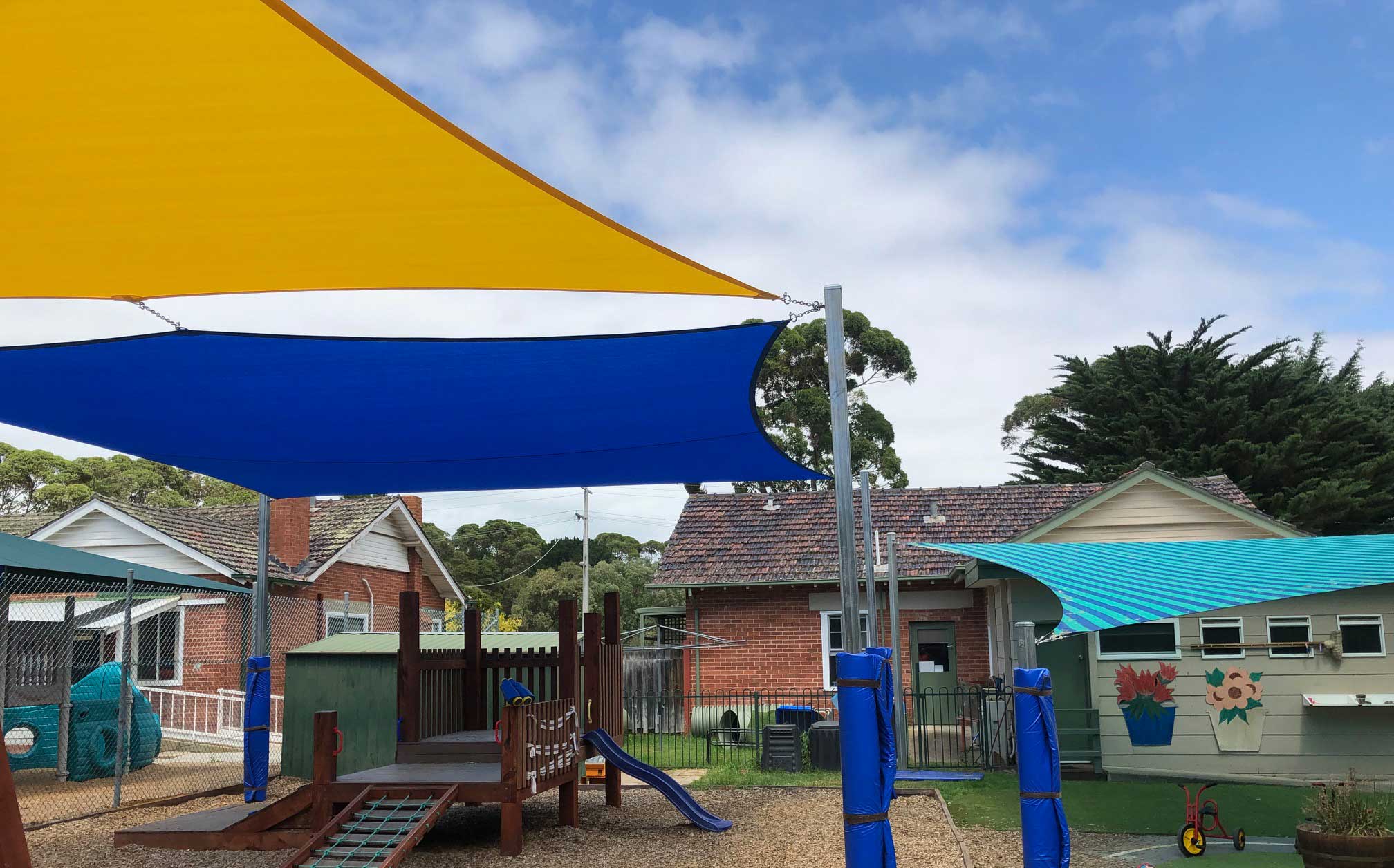 We also store and clean shade sails on an annual basis which means the clean process is faster and cheaper whilst storing during the winter months extends the life of the sail or cover. The math is straightforward, we take the sail down and store for say, six months of the year, resulting in the life of the sail being likely doubled. Plus, removing the sail or cover in winter provides light and warmth from the sun to the areas normally covered.
One thing that Shade Sail Services has identified is that storms each year are more frequent and violent causing increasing levels of damage to sails. In Victoria, these storms are at their worst in the winter period. Removing and storing sails at this time lessens the risk of storm damage.
Even with insurance, removing and storing a sail for the winter months is cost effective but also provides a better investment as the life of the sail or cover is increased.
Halfway through the life of the sail it is likely that re-stitching is required through wear and tear from exposure to the sun and weather. It is our experience that the stitching fails long before the shade material. Even when the sail stitching is not showing fatigue, halfway through the sail life, it may be prudent to re-stitch to push out the time to the next programmed clean. Based on our significant experience we can advise on this. When we repair sails, we use the highest quality thread available.
The additional benefit of regular cleaning ensures the aesthetics of the sails or covers is maintained. This is important in many situations.
In most cases, an inspection on site will indicate that a shade sail requires repair. Shade sails and covers may also be identified as requiring repair during cleaning process; the requirement not being identified at the time of inspection of pick up. Typically, whilst the shade fabric or cover may have years of life to go, the stitching, webbing or wire could require repair. Either way, Shade Sail Services notifies you of the requirement and obtains your approval prior to any repairs being undertaken.
Undertaking cleaning and repairs on a timely basis extends the life of the shade sail. After the cleaning and repair processes are completed, the sail may be stored or returned immediately for reinstallation. Upon installation, the sail is tensioned to manufacturers' specification. Storing the sail makes a lot of sense during the winter months. The sail can be stored at Shade Sail Services or returned to your place for storage. Of course, we have comprehensive insurance to protect your investment when the shade sail or cover is stored at Shade Sail Services.